It's done, and so am I!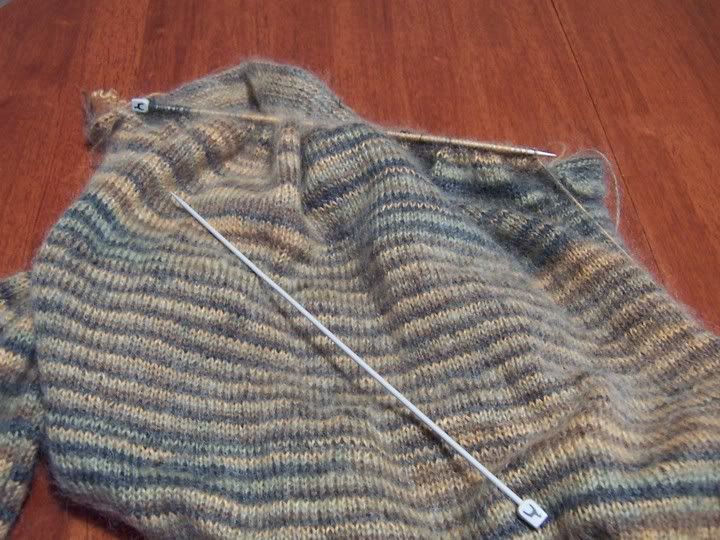 I have reknit the bottom of the jumper to make it longer. I have decided at the moment to leave the neckline, because frankly I don't know how much I am going to wear this. The effect is not as nice as I had hoped it would be, and the colours are a bit drab. I am hoping that in winter I can wear it with a short black skirt, stockings and boots or heels to dress it up. If I wear it with jeans I will look like a little rectangular prism. Now that I have done this I
must
get on with the scarf! Deary me. I have been quite neglectful of the poor aliens. I am actually looking forward to wearing it - it is sure to get some comments! Although, my gauge is way off and it is going to be
v e r y
wide.
I went to Spotlight today and bought more yarn. No idea what I am even going to do with it, but it is a really pretty colour - dark pinky raspberry. I bought enough for a cardy or jumper, or I might use it for some different bits and pieces. I love the cabled cap in Stitch n Bitch nation. I also bought some ribbon which was really cheap - 99c a skein. No idea what I am going to do with that either. I will have to trawl the net for some ideas. I have never knitted with ribbon, so it should be fun. And my daughter asked for a big chunky skein and I cast her on 30sts for a scarf. She was amazed how fast it was knitting up! I hope she sticks with it, she will love having something she has made herself. Her little friend was with us and said "I wish I could knit . . ." Hahaha, the net widens! If I can get these little funky chickettes knitting, it is sure to catch on at their school.
On a slightly different note - I watched a repeat of
Foreign Correspondent
today and the journalist had travelled to New York to Sesame Street. Oh my God I loved that show as a kid, and still find myself likening situations I come across to events that occured on Sesame Street. My brother does the same thing. Watching the piece today, it was amazing to look back on the 35 years this show has been on air, and the comments that the actress that plays Maria made about the people on the show being real, being able to age and even to die. I am slightly embarrassed to say that they showed a part of the episode where Mr. Hooper had died and they were explaining it to Big Bird, and I cried! I am getting worse. Sentimentality may kill me.