Late nights, early mornings
Well, I went to bed last night (Friday) at about 12:30, after finishing one sleeve and a bit of the next in fluff. I set my alarm with all intentions of getting up at 5:30 this morning to watch the opening ceremony. I turned said alarm off at 5:23 before it had a chance to buzz and went back to sleep. But being the dedicated knithlete that I am, I did manage to get out of bed at 6:10 and cast on the scarf. I didn't see much of the ceremony because I was concentrating, but I thought it was pretty cool. I love the Olympics, summer or winter. The scarf is is bloody easy. I have set myself a completely achievable goal. By 10 this morning, this is what I had: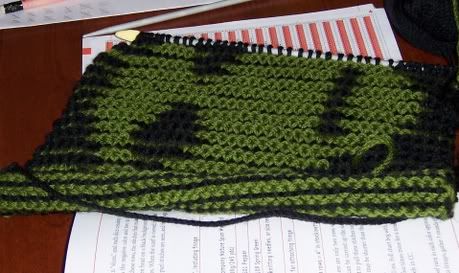 I wowed the inlaws who said I was very clever. I had to tell them that if you can knit and count, you can do it - one day I will learn to take praise (whether I deserve it or not!). I have been out twice today, once for a new 'do (looking shmick if I do say so) and out for the afternoon with the family, have entertained twice today, once for five hours, have ferried children and sent SS off to work, and still have managed to do this much: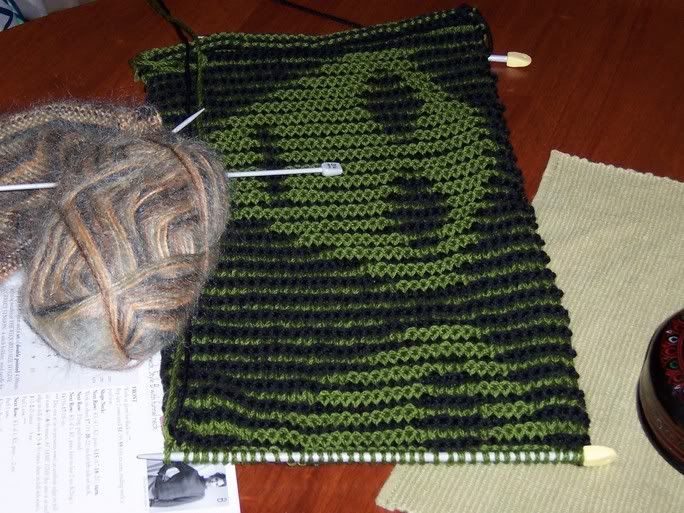 So, I have put it down, and have picked up the fluff. Maybe the challenge will be that I am about to go back to work and have just received my course work for a post grad degree I am starting this year, and I really do not have time to knit.
I do love the effect though - we have been walking around the scarf saying "I can see it" "Wow it looks cool from here" and my kids have been playing Where's Walien? I am having visions of being stopped in the street and being offered copious amounts of money for knitting scarves for strangers. It could happen. The other challenge is that I was supposed to need 2 x 100g yarn for the scarf, and I have nearly used 2 x 50g and have not yet done two repeats in a six repeat pattern. I will need to revisit the kindly lady at the LYS. How are you all going???