what quality is it? 'cos it aint patience
I had an interesting conversation over the weekend, strangely about knitting. As I mentioned before I started the posterboy bag and had to unknit it. Since then I have made numerous mistakes and had to go back and try again. The comment was made that "I don't know how you do it aj, you have such patience!" Now, this is not true. I am not a patient person. Put me behind a Sunday Hat Driver and I nearly go insane. I yell and scream "Bloody hurry up! Get off the road you old tool" and other such terribly offensive rantings. I think that it would be more fair to say "I don't know how you do it aj, how do you function while being such an obsessive person, so driven that you won't allow a pattern or technique to beat you?" Because I think that is closer to the truth. Knitting something new is a challenge, even if it is a plain old stocking stitch jumper - the challenge is to get it to fit, to be a piece of clothing that I want to wear. Not going so well with this challenge, but I will get there!
Here is a pic of the bag as of last night (note the weird unhinged finger - a genetic defect!):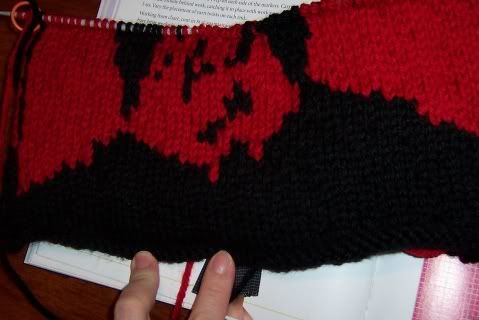 The lumps and bumps will be ironed and blocked out (!). I am pretty pleased with it, although it is of course smaller than the one in SnB.
My friend picked up a free pattern from Spotlight, so I know what I am going to do with the ribbon yarn I bought a couple of weeks ago: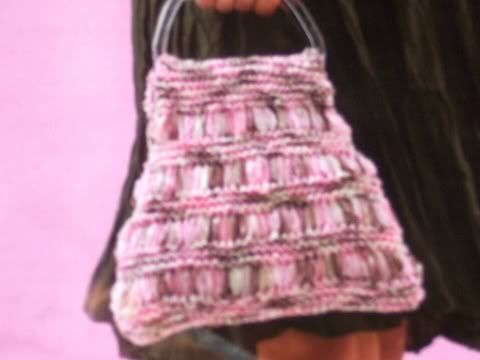 I am planning only to have two or three dropped sections, as I would prefer to use it as an evening bag - of course I go out so much I need so many evening bags (not). I will need to find some handles. Should knit up in about two hours I reckon. Again, hoping Mother will help with the lining. I am in no hurry to get my sewing machine fixed. I hate sewing!
Happy knittin'