Another first for me!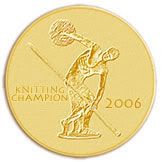 Here is my Olympic Gold medal. I think this is my third ever medal - and it's virtual! I don't really feel like I deserve it as the scarf did not stretch me that far, but none the less...
I have finished the back and front of the raspberry jumper, and have not done much more of the bag. I am going to knit the two sleeves together, so hopefully I will have that jumper finished b the end of the weekend. I am quite busy at work, so it is nice to go home and vegetate with the television and some mindless stocking stitch! I will probably have enough yarn over to do Odessa, so I will find some yummy beads on Saturday.
I joined a
knitalong
! I am so excited. It's a funny thing, I keep finding different and new things that I want to try. My obsession is not waning, it is growing and gaining speed. And in this instance instead of visualising a snowball, I see a yarnball somehow winding itself up into a bigger yarnball!!
Mother has supplied me with some excellent knitting patterns from the new City Mission shop that has just opened. She was there for ages sifting through the apparently gazillions of pattern books there. Of course some of the stuff is incredibly dated, although weirdly that is generally the knitwear that is less than fifteen years old! What were we thinking dressing ourselves in enourmous knitted sacks? SS also got me seven books from the library, I had to return SnB this week, so he raided the shelves for some more fuel to the fire! What a sweetheart.
A grammar question. Do you say knit or knitted for the past tense? I have always said knitted, which is correct (I checked) but I notice a lot of bloggers use "I knit this last year". What do you think?