Who needs to pay for a ticket?
Well, here I am in suburbia and the noise from
MSFest
is assaulting my ears. There is a music festival on tonight and the bowl that Launceston lies in is behaving like an enormous ampitheatre. I can only thank my lucky stars I am not at the festival. My ears would not cope! Sometimes I feel so old! At least the money is for a great cause.
I have been knitting up a storm. I have done this: (The raspberry jumper is all knitted and I love it in its un-constructed form. I am nervous about putting it together in case it makes me look like a little red ball of fluff, but I think it will be okay. I completely ripped the sleeves and reknitted them, they are now the right length at least.)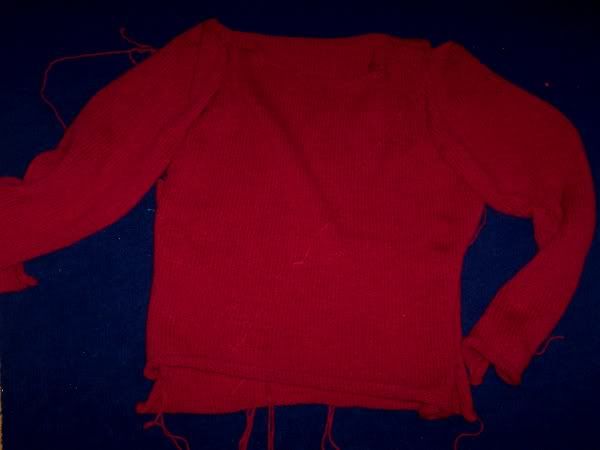 And this: (The pink bag took me all of about two hours, it is not sewn nor lined, but I found some handles at Spotlight which I liked, so I will cut up an old cream camisole that never fit for the lining and finish this as soon as I get near a sewing machine. Really looking forward to sewing shiny fabric. May try to convince mother to do this.)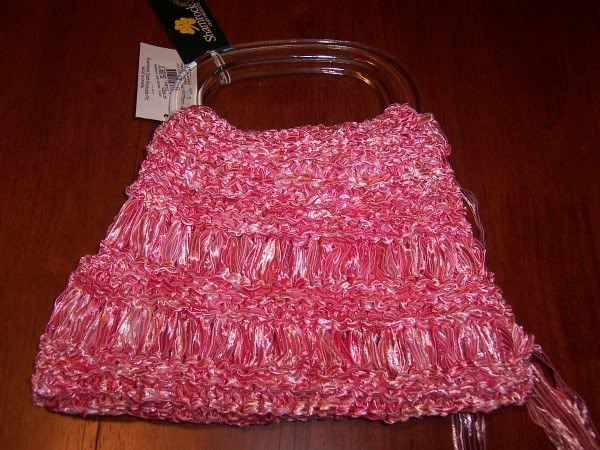 And this: (Posterboy is coming along nicely, with about 25 rows to go. He is lumpy and I have made mistakes, but I like it anyway. I will need to buy more yarn to finish and as I noticed the woman restocking shelves at Spotlight I probably won't get the same dyelot but never mind. He was really an experiment and as I am not wearing it I think it will be okay. May blend new yarn in.)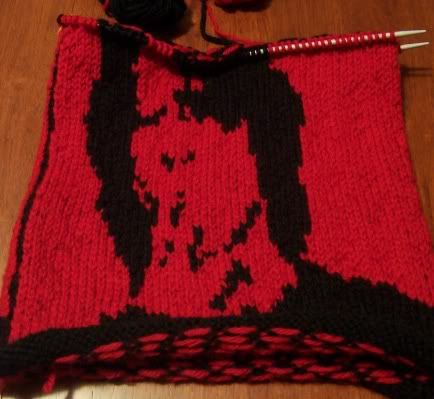 And this! (This is Odessa. This almost stumped me. I did not know what SSK meant. I fiddled around for two days before googling Slip Slip Knit and finding a list of extended abbreviations. I know SSK means Slip Slip Knit thank you very much, but I thought it meant slip one, slip one, knit one. Could not for the life of me figure out how I would then yarn over without ending up with infinite stitches. Going along famously now! This is about two hours work. [Minus the five or so cast ons that came before!] Like my stitch marker? I made it myself!!! It is much less blurry in real life.)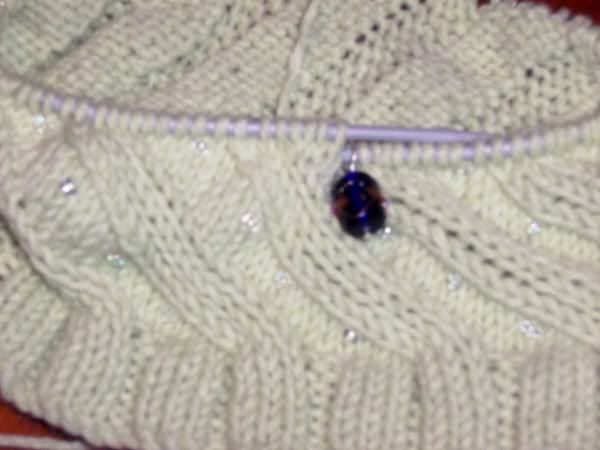 Guess what? I asked the aforementioned woman at Spotlight if they had a new wool/silk blend yarn as mentioned by Cindy, she tried to sell me some ribbon yarn. She had not a clue what I was talking about. I accept perhaps she had not seen the new yarn, but should she not know what a wool silk blend might look like? Heavens to Betsy. I ended up apologising for bothering her! Then heard her complaining that some supplier had sent more colours! The horror!!

Does anyone else think it is a bit strange that most of my current projects already fit in the Project Spectrum colour for March?
I am planning to use some extremely cheap beads from my three year old daughter's bead stash and some yarn left over from the alien scarf to knit up a little purse. I am also planning a lace scarf for MIL for Mother's Day. Strangely enough, the yarn used in this pattern is the same as the yarn I used for my raspberry jumper and Odessa, I really like it although I know it is not pure nor wool. It is soft and knits up to be almost felted in appearance. I thought Yarn Harlot's post was quite good recently, talking about yarn snobs and the like. If it works, it works. Who cares? Besides, I have a really nice jumper, and two skeins left over for $35! Woohoo!