Australians all let us . . .
What a lovely day has been had. We marched this morning in the Launceston ANZAC march, with school. Little Purl is on the SRC and Number One Son wore his great grandfather's medals (from his father's side). He was in PNG – this is the first year NOS has marched, and his grandfather has entrusted the medals to us now, so it will become an annual thing. Unless families are not allowed to march. I personally think this would be an absolute shame. We felt very proud today, proud to be Australian!
I knitted a bit but mainly worked on work stuff. However, I did complete armwarmer number one. I swear it is much nicer and more in focus in real life. I had a real struggle taking a picture!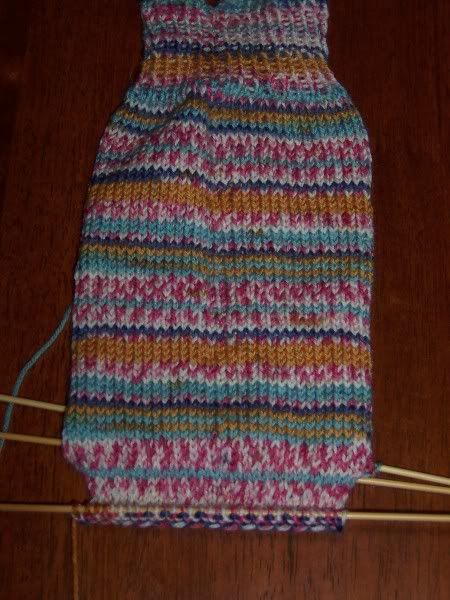 And I have been working on this, up to the first heel flap. I am surprised how quickly the 4ply knits up, it doesn't seem to take long at all.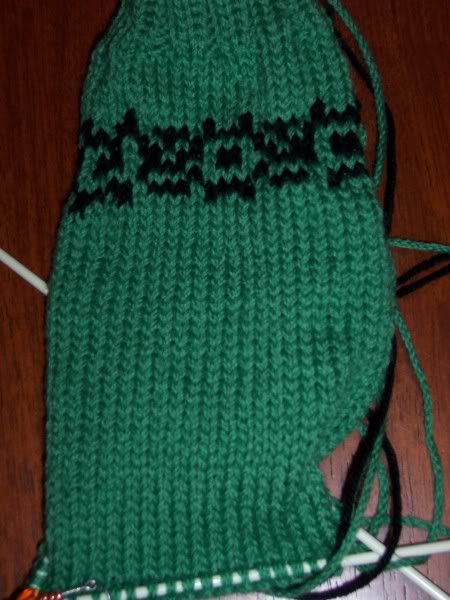 Here is the sock I have started for Purl, SS drew me a skull and xbones chart the other evening, can you spot them? The black bit is a bit pully inny because the yarn is a slightly different size(?) and I was a bit too tight. However, she loves them so far. I am up to the heel flap on that sock too. As well as all that, I have done a minute bit of Manly. I swear I will finish this blinking jumper. One day.
Aussie Aussie Aussie.