Stop the world . . .
I wanna get off!
The busy period has only just died down, and although I have managed to keep up with reading blogs I have not been able to sit down and post myself. However, I will make up for it now.
I finished a couple of projects this week (
take a look and let me know what you think
), and thankfully also finally managed to finish the back of the Manly: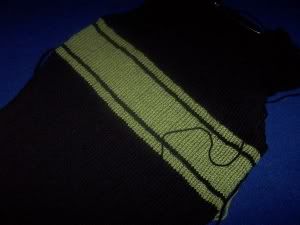 I have been having a little bit of time off the needles, as I have been finding my hands have been a bit painful at times. I can't stay away for long though, and have knitted at least a couple of rows each day. As I type I have done about 15cm of the first sleeve of Manly. Mother gave me a good tip - knit the back, then the sleeves then the front. I don't know about you, but I always find the sleeves take longer than you think they will. I am going to take her advice for this jumper.
I have decided I am
not
going to knit Tubey, after buying the yarn for it and all. I have been reading a KAL where people have complained that it makes them look a little busty, and as I am already more than a little busty I am not going to tempt the booby gods of fate. Instead, I am looking to find the perfect high neck sleeveless thing pattern to wear over my favourite long sleeve tshirts and shirts for the cooler days. I am even contemplating making up the pattern myself! I get quite warm at work (read flustered!) and so anything too covered just makes me purple. This project will be black. Cursed black knitting, but I can't get away from the fact I like wearing it!
The colourful bits and pieces I also bought for Tubey will be for Little Madam, not sure what but probably a cardigan. I need to go through some of my pattern books to find something suitable. She insists on wearing pink most of the time, but if I am creative and use some colourful buttons I think I can convince her to branch out.
I am getting quite excited about joining my online friends on Tuesday for a face to fact meeting. Excited and just a bit nervous. Cindy has given me directions, so I know exactly where I need to be. I don't know what I will bring to knit. Perhaps I will have something else started by then? Wasn't it a beautiful day in Launceston today? I hope Easter Bunny comes to you all, and that you have a happy and safe day. Don't eat too much chocolate!