the wrap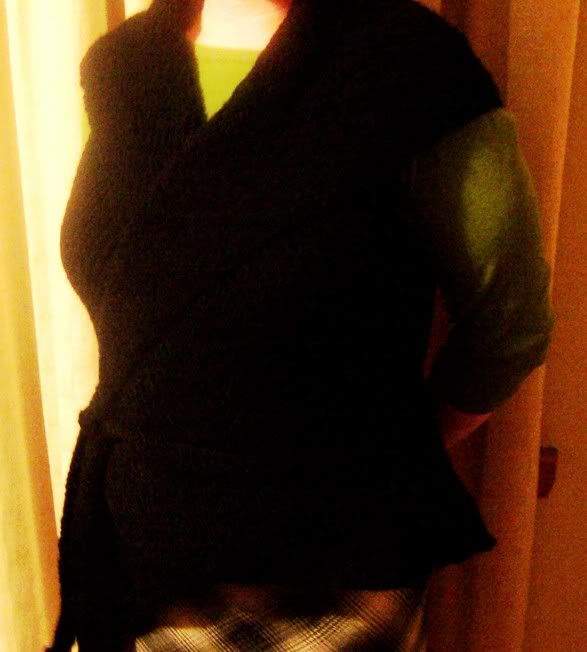 Well, here it is in all its soft focus glory. Gee black is hard to photograph. When the flash was on, you could see straight through the fabric to my green tshirt! Not good to see two luminous boobs shining through! I was about to buy a belt to go around the thing today, when Mother suggested knitting one. So I did. I cast on a kabillion stitches and knit about ten rows, then cast off. Voila, a belt.
I have gone back to my little socky, which is quite pleasing. I went to Mother's today and she had taped Knitty Gritty for me, as she is an Austar subscriber and I am not. They were knitting in the continental style, which is not too difficult but looks really weird to me. Apparently it is quicker, once you get the hang. And I know when I do try my tension is much tighter, so it might be a good idea for me.
I am going to knit some 8ply socks for Purl, as she has nicked off with mine. I am going to make them green (I know, green . . . thanks Cindy I know you are doing something subliminal on your blog!) with little skulls on them or something. I am about to look for some charts. I know Suzi has some over on her blog.
I think I am going to attempt some lacy socks with my prize. MmmMmm I can't wait. I need to ensure that I finish Manly sometime very soon, SS is being patient but there are limits.
Oh yes, and I bought the Simply Knitting magazine too, which is at Mother's because I really should be working this evening, not blogging and knitting. Ah, what can ya do?
Ciao, adios, adieu! :)