yikjam
Yes I knit, just ask me!
Wow, isn't the weather getting colder? And it is supposed to get even colderer. Perfect weather to debut the
Alien Scarf
! Golly, did I impress at work today?! I have been rabbiting on about knitting for ages and have drummed up some support for a knitting group. Today I wore the scarf and carried my knitting in my Posterboy. I have had so many comments. One colleague has asked if I can knit a similar bag for his daughter – Oh boy, I don't want to do this but what do you say?! One lot did not believe me that I knitted the scarf, and oohed and aahed about the soft squishiness of the wool. My male colleagues were enthralled and I had quite a discussion with them about post feminism and the need for women to embrace knitting again. Some of them confessed to having knitted jumpers for their teddies as young men and one said he was the fingerknitting champion in Grade 4! It was quite fun.
Here is a picture of the beanie I am making SS. I bought some of the wool silk blend which I really like – it is soft and scrummy and the little knobbly bits are a diversion (you never know how or when they will appear!). It is the perfect colour for him, just what he wanted. It looks very small at the moment and he has a big head, but the 2x2 rib should stretch. He wants it to turn up at the brim, but even so I should have this done tonight. I finished the MIL scarf and have posted the picture
here
. I am a bit upset, the scalloped edge did not translate to the other end, I have tried to iron it in, but it remains quite straight. Never mind. There are a couple of other photos, check them out. I particularly like the
Tiny Madam bag
.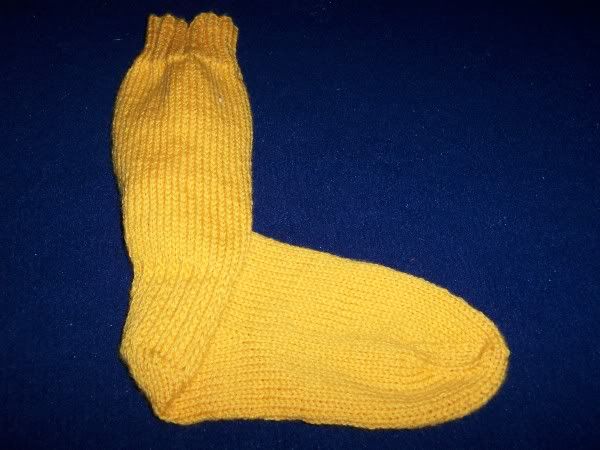 I have also finished one yellow sock, also for SS (I am only knitting for him at the moment!). It is longer in the foot than my pair. The toe is a mess. I do not graft well, but since they are really only going to be worn around the house I guess it doesn't matter. One day I will ask someone to show me how to do it better. I feel – ambivalent – towards socks. Perhaps I need to get some expensive and yummy yarn in a tiny ply and knit some that I can wear with shoes. Maybe I need to cut my losses and move on.
Are any of you locals going to the craft fair on the weekend? I am going on Saturday. Has anyone been in the past couple of years? I went about five years ago when it was at the Silverdome and when I wasn't quite so obsessed with knitting. I bought a cross stitch kit that was obscenely expensive and still sits in the cupboard unfinished like so many other guilty cross stitch secrets in my cupboard. Do they have lots of knitting stuff??
I have bought the yarn for Tubey and at the moment am considering making myself some armwarmers. There is a cool pattern in SnB Nation which I might try. I guess it will just be like a pair of socks with no heel and instep, they do have a viney pattern on them, so this should be interesting. I am going to use leftovers of black and green. Still trying to work out some more things for Project Spectrum – there will be an orange stripe in Tubey. The Manly Sweater is still on the go, albeit slowly.