oh manly, you came and you gave . . . not
I am again a frustrated knitter this evening. Exhibit A: a pile of Manly.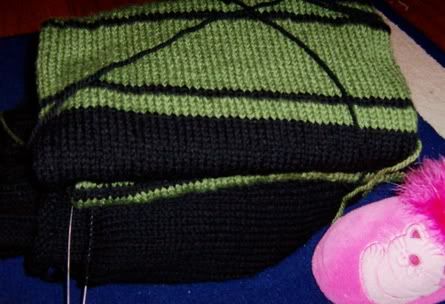 AKA a pile of $h;t that at the moment can not be worn because the stinkin sleeves do not fit into the stinkin sleeve holes. What does this mean? Well, since I can't convince SS that he would look GREAT in a vest, it means I will be knitting backwards tomorrow and reknitting the top of the sleeves. Two of the suckers. What am I doing wrong? I know that I have had to knit the smallest size widthways and the largest size lengthways. But I thought I worked it out. Am I being punished for loving a tall thin man? This does not seem fair. I really need to become one of those knitters who swatches, measures, multiplies, casts on and creates the perfect jumpers for all she knows. At the moment that is not me. I am more like - well, a really pissed off knitter. As an aside, the cute little foot end belongs to Tiny Madam. She will be incredibly happy to see her toes on the pooter.
In other news knit fans, I have been sidelined indefinitely. Without giving the game away, you may make some deductions if you read today's
Examiner
. Suffice to say I have had plenty of knitting time. Did any of you brave Kmart? I did. I bought some acrylic. Everything else was gone. Oh sure, there was some Jet, but I had no idea what to do with it. And there was some Studio Mohair, but don't even go there with me (horrid nose encroaching throat tickling fluff!!). I am planning on making a threw for my carch.
Little Purl
has commandeered some of it for a scarf, so it seems she may have found her knitspiration again. I am trying to explain to her before you can ditch the patterns, you must first embrace them, but you try talking to someone who turns 13 next week! What would I know?!
I bought knit.1 yesterday, it has some fabulous stuff in there. I love a vest, and a knitted chain (yeah, links and all) and there's a fabulous argyle scarf for SS, but it is in stocking stitch and you can't tell me it wouldn't curl. I am considering using a circular and knitting it as a tube - double sided methinks. I also bought a creative magazine which contains among other things some door snakes. Number One Son decided he had to have one, so I have knit about half of that this evening. No need to show you a photo at the moment, hopefully it will be finished tomorrow. NOS informed me I have never knitted anything for him, which is not entirely true - I made him a Jean Greenhowe cowboy when he was tiny, and a jumper when he was not quite so tiny but obviously nothing in this short (but getting longer) obsessive knitting stage I am going through. Tiny Madam informs me she needs a pint snate, so I will need to do that too.
As for the other projects I swore and declore I was going to finish. Bugger them. I am over it. I will do what I want, when I want and not before. There, can I now be a badass knitter?
Little Purl's in Melbourne. Did she tell you she was going? Off for a birthday treat with the MIL. Who, by the way, was wearing the MILMarkII today. Success.