selfish knitting!
In knit news, I have been quite busy. I have finished the first section of Clapotis and have just dropped the first stitches. I was knitting furiously last night to get to this point, and can't wait to actually finish the whole thing. After much deliberation over a suitable soft and silky yarn, I chose a blue shade of Zhivago. This stuff is SO NICE to knit with, and I can't wait to wear it. I think I should be finished by the weekend with this one. Here, for your viewing pleasure is a progress picture: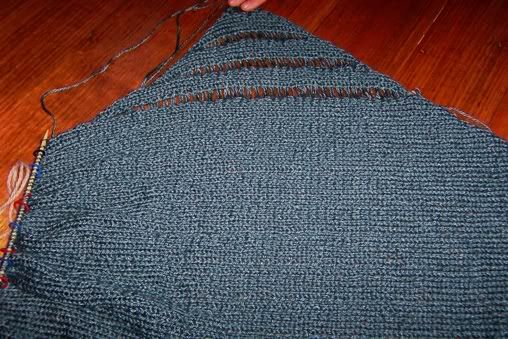 I have done no more to the sock, here is a picture to keep me honest and perhaps to motivate me into doing more: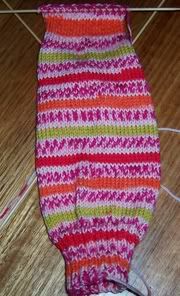 Here is the Panta, which I think is too wide for me to wear except at home and on walking expeditions in the dark. I may make a narrower (more narrow?) version: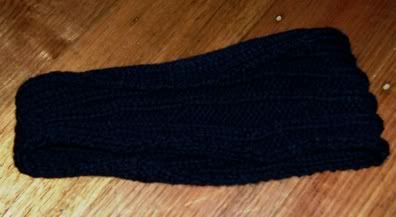 I apologise for the shocking quality of my photos, I was panicking because I was nearly out of batteries!
On Sunday I knitted a squirly curly scarf like
this one
in green, but left it at work so I can't photograph that for you. Suffice to say I had people touching it and commenting all day on Monday, and of course the usual "Oh, can you make me one?" There was nothing difficult about this scarf at all, and I may consider making some for friends. Don't you think it is a shame our Christmas is in summer? I feel that most people would give me 'a look' if I gave them some knitwear for Chrissie. I may make some cotton facewashers for the peripheral people who we see only at Christmas, which will surely be more personal for them and enjoyable for me than the usual box of chocs.
And that's that.