so much to tell you
Well, Mother's Day is over again. I finished both projects and both were greatly appreciated. The MILMarkII was graciously accepted and matched perfectly with a jumper (bought) that my sisterinlaw gave the MIL. That was a relief. However, in my excitement I forgot to take a picture, so you will just have to imagine there is a picture here of a basketweave, dull, charcoal scarf.
Mother's socks were not both completed when I arrived at her house for breakfast yesterday, so her present contained a box of Lindt (drool drool) chocolates and one sock. I ate my breakfast (very sleepily - I was up late Saturday night trying to finish the second sock) and then knitted knitted knitted and finished it at her house. She loved them. Here is what the yarn that I won in
Katt
's comp knits up like: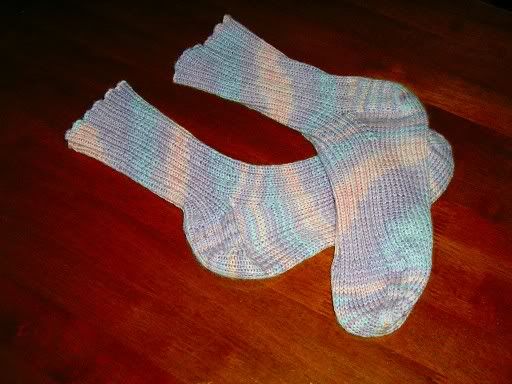 Pretty cool huh? The pattern is my OWN! modified from different patterns about the place. The colours in the pic are slightly off, but close enough so you can see how the pink twisted around and around.
I have received mail from my Project Spectrum postcard swap person, she blogs
here
. She is a bit clever and writes patterns and things, so I am feeling a bit of pressure to do something interesting and clever. I will have to think. I have a little idea, but I won't tell you in case she reads here. Very exciting.
As you may have read on
Little Purl's blog
, we went to the Wizard of Oz on Saturday, and my hats go off to the cast and crew. I know how much time and effort goes into making something so wonderful. The kids were so professional one completely forgot they were school kids. Brilliant!!
Mothers Day was yummy - I got some Patonyle sock yarn -
Cindy
is knitting some socks with one of the colourways I received (blues) and the other is the bright pink and orange one, which is cute. I am not going to do anything with it until I finish:
1. Manly
2. Armwarmers
3. Little Purl's skull sox
I also got some cute little scissors and a self winding uppy measuring tape with inches and cm and a promise of a splurge at the LYS!!! Yay hooray.
I actually knitted about 10cm of the front of Manly last night, SS began wondering what he needs next. My response was unless it goes on your head, your feet or your bloody hands forget it! TOO BIG!!!
Catch youse.