Gee I have been slack! It has been over a week since my last post! Darn work. It really does get in the way of my life. A positive outcome of not blogging is that I have quite a lot to tell you . . .
I have finished my Opal socks, and here they are: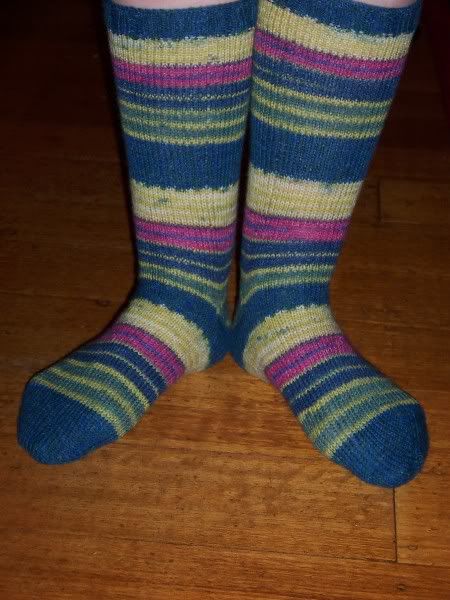 Those really are my feet and ankles. As you can see I have added a protective layer in order to get through these cold mornings! I like the socks, they are warm and nice and long, and quite successful for my first pair of toe up, short row heel socks. And, as they have so much blue, they are fine for Project Spectrum. I thought there would be more pink in them - I am sure one day I will be able to look at a ball of yarn and picture it knitted into something. I can't yet. I did manage to make them match though, so that's a bonus.
I knitted this on the weekend just gone, using Patons Jet and
this pattern
.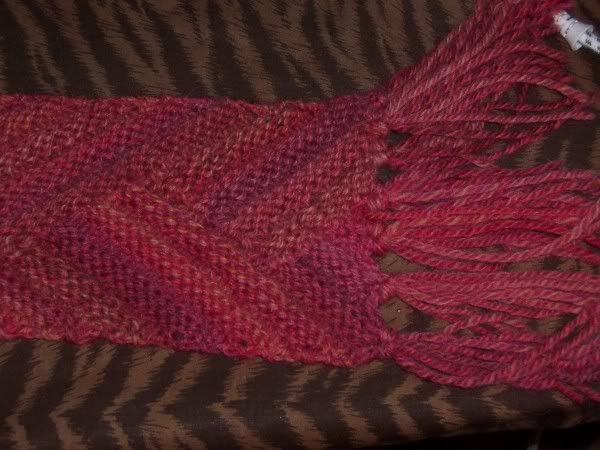 I love love it, it is so warm and squishy. And the colours are very nice. Mother loved it too and is knitting herself one. More on that later.
I turned the heel on a
Jaywalker
last night, toe up upside down style, and another short row heel. I am not going to make these very long, I am a bit bored with this yarn. I am developing a philosophy on hand knitted socks: If you are going to bother making them, they should at least be interesting, or pretty. I don't think these are either. Bad photo, sorry: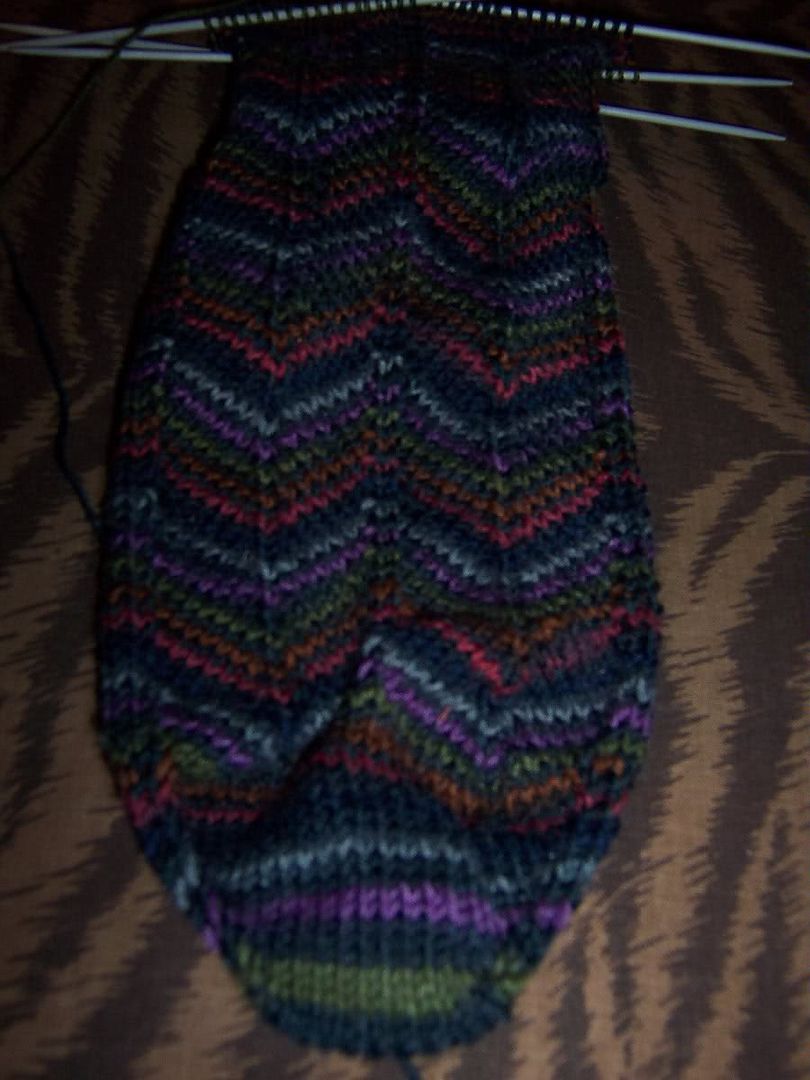 I received my Project Spectrum swap card some time ago, but forgot to mention it. Thanks
Crazed Weasel
! I have no idea who I am supposed to be swapping with this month, as I haven't received email about it yet. And it is only a few days until the end of June! Can you believe it?
How many of you headed to Spotlight today? Mother picked me up and we went this evening, leaving
Little Purl
in charge of the small people for half an hour. I selected a skein of Magicline cotton, two flesh colours balls for a doll,
this pattern book
(from which to knit said doll), and enough brown Country Silk for a Clapotis for Mother. Unfortunately I left my purse at home, and Mum paid for everything! How embarrassing. Never mind, I will pay her back in a couple of days.
I had better go and knit! Oh, I guess it would be unAustralian to end with anything other than
AUSSIE AUSSIE AUSSIE OI OI OI.
(I can't believe I have done that!)