what a busy weekend
I have been knitting like a fiend for the last few days. School holidays have arrived which is fan-blinking-tastic. I finished Clapotis and it is as wonderful as I hoped it would be. Zhivago works really well for this pattern. That't my hot tip for the day.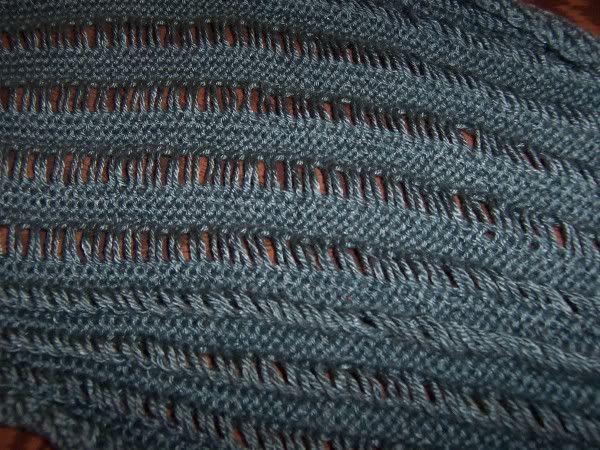 Here is a picture of the green curly scarf: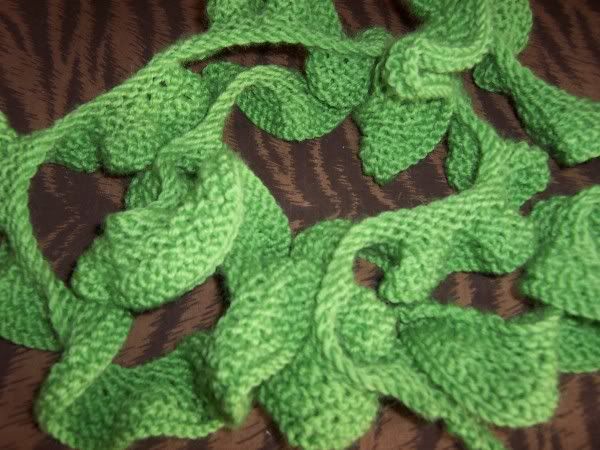 I have also been working on a beanie for the Guardian Angel appeal.
Little Purl
has also been doing some of this.
I received an email from my postcard swap partner for Project Spectrum, apologising for not sending my postcard. Ahem. I had not sent hers either, so this afternoon I spent a couple of hours whipping something together. Paper craft is not my forte, I am not very creative at all. However, I am pretty pleased with the end result. I made a couple of little additions, and I hope she likes them! I had plans of getting a real postcard with some green scenery but, um, I have not been getting out much lately.
Last night I spent hours on an assignment for Uni, I will be doing that for the next few days as I have to write 11500 words by next Tuesday. No sweat. I have done about 2000 of them. *thud*
I have also turned the heel and am powering towards the end of the first bright sock. AND I won an auction on ebay for some Regia which will be posted tomorrow so I will be thinking about what I will make with that. I really need to step outside my comfort zone with this one, and perhaps try some lace. The colours are quite dark, I am not sure that lace would suit. Maybe I will play it safe and make some variation on the Mata Hari socks. I am also planning on using up some little bits and pieces with some
baby socks
. And some toe up blue variegated Patonyle socks, probably just rib for these, to try doing them 'backwards'.
I have had a brainwave re Christmas presents. I am going to make
felted Christmas stockings
for the nieces and nephews and include a small gift. This will last them forever!!
I watched the Wedding Date last night. It was okay, your standard RomCom. Tonight I am going to get nostalgic and watch Mermaids. I remember loving this when I was younger and will watch it with Little Purl.
Edited to add:

Me: Cool - here's a quiz that tells you what Brady you are.
SS: You don't wanna be Jan!
Result:
You Are Jan Brady

Brainy and a little introverted, you tend to think life is a lot worse than it actually is.
And while you may think you're a little goofy looking, most people consider you to be a major babe.
Er, I am Jan. Marcia Marcia Marcia. SS now tells me Cindy was much more annoying!
Thee Ya!